The 2022 Subaru Love Promise Community Commitment Award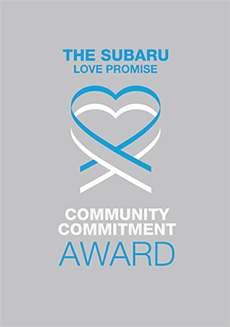 We've been nationally recognized for our dedication to our community and the Subaru Love Promise.
We're honored to receive the 2022 Subaru Love Promise Community Commitment Award. This award nationally recognizes Subaru retailers who are making the world a better place while demonstrating an outstanding commitment to supporting passions and causes in local communities. These efforts are focused in important areas such as the environment, community, health, education, and pets.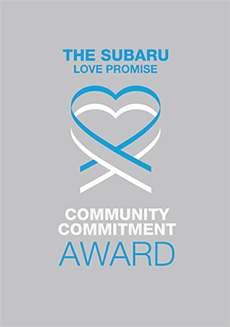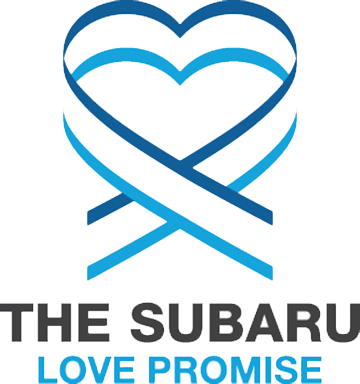 What is the Subaru Love Promise?
Subaru and our retailers believe in making the world a better place and the Subaru Love Promise is our vision of respecting all people. This is our commitment to show love and respect to our customers and to work to make a positive impact in the world.
How is Cityside Subaru dedicated locally to the Love Promise?
Our Love Promise can be seen in various partnerships with local charities and non-profits. We're grateful for the opportunity, not only to be a part of our community, but to serve it as well.
MSPCA, Northeast Animal Shelter
Waltham Fields Community Farm, Gore Place Society
Foundation For Belmont Education
Dan Scharfman Memorial 5K race, Waltham Mills Artist Studios, Museum of Fine Arts - Art in Bloom
Fenway Health Iniative, M.O.M.'s Run for Cancer
Love Promise Stories from Cityside Subaru
Subaru and Cityside Subaru believe in making a positive impact on the communities in which we live and work. We uphold that belief through our Love Promise Community Commitment. Every month, we select inspiring stories from customers and partners from around our area who strive to support our collective commitment and feature them here
City Side Subaru - Jamie G
City Side Subaru continually goes above and beyond to support the Northeast Animal Shelter's mission to help as many animals, and people, as possible. Whether it's an adoption event to promote our available animals, sharing adoptable pets on the website, hosting a supply drive to support the shelter with the things we need to help animals, or donate to help our programs sustain, we know we can count on City Side. We could do what we do without community partners like City Side. Thank you!
---
CitySide & Springwell Support Healthy Aging - Beth S
CitySide Subaru in Belmont partners with Springwell to Support Healthy Aging Belmont, MA, September 3, 2021— September is Healthy Aging Month and CitySide Subaru has welcomed Springwell, a local Area Agency on Aging serving Belmont, Brookline, Needham, Newton, Waltham, Watertown, Wellesley, and Weston, to join them in providing tips and resources to help older adults live their best lives. Visit the resource table in the showroom to gather information that may help avoid or alleviate some of the challenges of aging. Each person has different needs. Some may benefit from specific driving safety tips. Others may find that some in-home services such as home delivered meals, cleaning, laundry, or personal care can make the difference between being able to live at home and losing independence. Volunteer opportunities or part time jobs might be the social interaction that decreases isolation CitySide Subaru of Belmont has long supported Springwell in their efforts to serve older adults in our community through the annual Share the Love program that helps fund Meals on Wheels. "At Cityside Subaru, we are proud to support the needs of all ages in our community and are happy to expand our support to include resources for Healthy Aging," shares Nathan White, General Manager. Beth Shultz, Springwell's Director of Development joined White in the showroom today to kick off Healthy Aging Month. "As a private, non-profit organization that has been creating, managing, and coordinating a wide range of services for more than 40 years, our mission is to provide comprehensive services to seniors, individuals with disabilities and those who provide care, guided by a commitment to an individual's right to live independently in the community. We are delighted that CitySide Subaru is helping to spread the word about the many resources and services available to support healthy aging."
---
Speak for the Trees - Boston - David M
Thank you for your generous donation. Your gift supports our work of providing free trees to residents in Environmental Justice neighborhoods of Boston, to build a resilient future. With climate change, Boston is facing hotter summers and increased flooding. Urban trees are need now more than ever. Our work of preserving and planting trees builds a more environmentally and socially resilient city for all. But your support does so much more! Through our events we bring people together to celebrate the power of our trees, to get to know each other, and to build stronger communities. Last year, during a pandemic, we continued our work of support, outreach, and connection. In May we delivered 71 trees to Hyde Park residents, in October we delivered 70 trees to East Boston residents , and we mailed nearly 100 more throughout the city. Last summer our Teen Urban Tree Corps program went virial; 15 teens learned about the importance of their community and created powerful narratives. You can see their work at treeboston.org/get-involved/tutc. And, thanks to you, we were able to welcome spring and our 2021 planting season with a week's worth of events to celebrate ArborWeek. Together, we gave away over 1,000 trees – a mixture of small and large trees that will give back to the communities for generations to come. We hope to be able to continue this partnership in the coming years as we grow our work (and our urban forest) in Boston. On behalf of all of us at Speak for the Trees, thank you!
---
Foundation for Belmont Education 2020 - Lyn H
Cityside Subaru of Belmont donated $27,000 to the Foundation for Belmont Education (FBE) in April 2021 as part of the Subaru Share the Love program. For the eighth year in a row, CitySide Subaru has elected to partner with the FBE in Subaru's annual Share The Love Campaign. We cannot express enough just how thankful we are for their unwavering, invaluable support. THANK YOU Cityside Subaru. Since the Share the Love program's inception 13 years ago CitySide Subaru has donated an incredible $138,052 to the FBE! Under the Share the Love program, consumers who purchased or leased a vehicle from CitySide Subaru during the promotion (November 2020 - January 2021) could select the FBE as their charity of choice. Each time the FBE was designated, Subaru of America donated $250 to the FBE. CitySide Subaru generously matched all donations. In addition, CitySide Subaru generously offered a discount to all Belmont teachers and staff who purchased cars during the promotion. CitySide Subaru is one of the FBE's longtime Investors in Education -- businesses that donate more than $5,000 annually to the Foundation. They are also the primary sponsor of the FBE's Apple Run (and previously the Dan Scharfman Memorial Run) held annually in the fall, and beginning in 2017, provided a pace car, driven by CitySide Subaru GMs Rick and Nathan White. The FBE is so fortunate to have their support, and thank them tremendously for making a difference in the Belmont Public Schools. From Martha Brown, FBE VP Fundraising: "We are so grateful to again be the recipient of Subaru's incredible 'Share the Love' Program. CitySide Subaru is a longstanding supporter of the FBE and their generous contributions have allowed us to fund many grant requests from our schools. On behalf of the FBE Board and Belmont Community, I extend our deep appreciation for their ongoing commitment to our students."
---
The Foundation for Belmont Education - Nathan W
THIS YEAR, SUBARU'S SHARE THE LOVE PROGRAM BROUGHT IN $37,997 FOR THE FBE! This is Cityside Subaru's biggest check awarded to date, and the FBE can't thank them enough for valuing education in Belmont and making a tremendous difference in the Belmont Public Schools. Christa Bauge, FBE President describes the incredibly generous donation, "This wonderful contribution comes at a significant time for the FBE and our town's public schools, as we all navigate through the current pandemic. Cityside Subaru is truly helping to make a difference in our community." For the sixth year, Cityside Subaru selected the FBE as their local non-profit organization to benefit from the nation-wide Subaru Share the Love program. This is Subaru of America's 12th year running this campaign, and they are on track to bring their total donations to over $170 million to national and local charities. Congratulations Subaru! Cityside Subaru is one of the FBE's Investors in Education – businesses that donate more than $5,000 annually to the Foundation. In addition to their contributions through the Share the Love program, they serve as the primary sponsor of the FBE's Apple Run (formerly the Dan Scharfman Memorial Run), and beginning in 2017, provided a pace car, driven by Cityside Subaru GM, Rick White, to lead the runners. We are so grateful for their unwavering support, especially while current funding sources are interrupted. "Cityside Subaru has been an incredible supporter of the Foundation for Belmont Education. Since their first gift in 2013, they have donated more than $200,000 to the FBE which has directly enriched the education of all students in the Belmont public schools. We are very grateful for their generous support and investment in our students' educations," said Martha Brown, FBE VP Fundraising.
---
Lunchtime at Springwell's Beech Street Center - Nathan W
Many seniors are struggling to stay independent and healthy. One in four seniors lives alone in isolation and one in seven seniors might not know from where their next meal is coming. To help alleviate these challenges, Springwell provides nutritious meals, friendly visits, and safety checks to the seniors in Belmont, Brookline, Needham, Newton, Watertown, Wellesley, and Weston. This vital support keeps seniors in their own homes, where they want to be. CitySide Subaru of Belmont supports Springwell in their efforts to serve older adults in our community. Nathan White, General Manager of CitySide Subaru notes that "in our conversations with our customers, we often hear stories from people who could benefit from Springwell's services. At Cityside Subaru, we are proud to be a part of such a strong community, and happy to support Springwell as our local Meals on Wheels partner for the Share the Love Event during this extraordinary year." Springwell provides over 800 meals daily and has safely continued delivering meals throughout the COVID pandemic. White joined the Springwell staff at the Belmont distribution site to lend a hand loading meals in cars for delivery and to hand out meals and greet seniors who participate in the "grab and go" meals program that is currently offered instead of community dining due to COVID precautions.
---
Northeast Animal Shelter Adoption Event - Jamie G
CitySide Subaru has always been a great partner to Northeast Animal Shelter, and 2020 was no different! In support of National Make a Dog's Day, CitySide Subaru sponsored $100 towards each of the first 20 adoptions, helping Northeast Animal Shelter place even more pets in loving, forever homes. Among these pets, we were able to place many of our last-to-be-adopted animals, affectionately known as our Unfurgettable Friends, who have more specific needs out of a home, which usually leads to them being overlooked. Thanks to CitySide Subaru, many of them found homes in time for the holidays! To take it one step further, leading up to the event, CitySide Subaru was kind enough to share photos of our adoptable pets on their social media channels, helping to bring awareness to our cause, and help them get adopted! Thank you so much CitySide!
---
Amazing Science Books for our Students! - Janice D
Cityside Subaru in Belmont is an amazing partner of the Belmont Public Schools! This year they donated 150 science books to our elementary classrooms through the Subaru Loves Learning Program. Thank you to Nathan White and Meagan Taylor from Cityside Subaru for selecting us as the recipients of this donation. Thanks to Subaru for their partnership with the American Association for the Advancement of Science (AAAS) that has an annual Prize for Excellence in Science Books. We love the prize-winning books that they donated to our classrooms.This is the third year that Cityside Subaru has generously donated books to the Belmont Public Schools. In 2017 they donated books to the high school science program and in 2018 to the middle school science program. The books were delivered to excited learners in kindergarten, grade 3, and grade 4.The picture is a group of kindergartens enjoying the new books with our wonderful partners from Cityside Subaru, Nathan White and Meagan Taylor.
---
Cityside Subaru Donation Drive for NEAS - Jamie G
Cityside Subaru hosted a donation drive for Northeast Animal Shelter, collecting blankets, pet food, treats, supplies and new adopter packages. Thank you Cityside Subaru!
---
Cityside Supports a Community That Loves Learning - Stacey C
The Boston skyline shines brightly on a community that values education - Belmont, Massachusetts. To support the stellar quality of education and educators in the town, the Foundation for Belmont Education (FBE) partners with businesses who share the same goal: to enrich the quality of education for each and every student that walks through the Belmont Public Schools. Belmont could not have found a better community supporter than CitySide Subaru. Since partnering with the FBE in 2011 as an Investor in Education, CitySide has found a way to enhance every FBE event and fundraising effort. Whether driving a newly released Subaru as the pace car at the Dan Scharfman Memorial run and having a team of employees takes part in the run, to showcasing Subaru Loves Learning materials at the FBE Spelling Bee, where more than 800 spellers from kindergarten to sixth grade show off their spelling prowess (how about V-E-H-I-C-L-E or A-U-T-O-M-O-B-I-L-E?), to the always amazing Share the Love program, CitySide Subaru goes above and beyond with their focus on elevating the Belmont Public Schools. Thanks to generous support from CitySide Subaru, the FBE has been able to support grants for programs in every grade in every school in the District. From leadership development programs and 3D printers at Belmont High School, to coding programs at Chenery Middle School, to enrichment programs at the four elementary schools, CitySide's support of the FBE has impacted every student in every grade. "Our partnership with CitySide Subaru is amazing. The care they put into determining how best to support the FBE and the Belmont Public Schools is tremendous. CitySide's owner, Rick White, staffed the Spelling Bee booth and spent hours chatting with children and parents about the Subaru Loves Learning science books that were given to Chenery Middle School. The spellers loved the pencils and other fun gifts that were handed out, but it was the parents that recognized how fortunate the community is to have businesses that truly help make a difference in the schools," said Stacey Conroy, VP of Fundraising for the FBE. It's partnerships like those between the Foundation for Belmont Education and CitySide Subaru that show just how important and invaluable community partnerships are in ensuring a school's success. Together, the FBE and CitySide make a difference in the Belmont Public Schools.
---